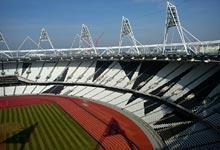 Going for Gold: PTSG engineers complete annual inspection of safety rigs on Olympic Stadium
Engineers from Premier Technical Services Group (PTSG) have just completed the annual inspection of the climb/latch ladder systems on the Olympic Stadium.
The cable based systems, which are used by others to inspect the flood lighting system on the stadium's iconic inverted 'V' structures, are tested once a year by PTSG.
The systems, which are the very highest point of the 200-foot high stadium, are used to prevent people falling when maintenance and repairs are made to the sophisticated flood lighting systems.
Paul Evans, divisional director for PTSG, said: "This is a very prestigious job for us and one the guys on the ground really enjoy being part of.
"The view from up there is something to behold and although we're involved in some other stadiums and football grounds, there is certainly nothing as grand as the Olympic Stadium.
"It a great job for us to be involved and a really interesting project."
PTSG is the UK's leading provider of façade access and fall arrest equipment services, electrical testing, high-level cleaning and specialist electrical and mechanical services.
The company has been involved in the maintenance at the 80,000 seater Olympic Stadium – which was the venue of some of the country's greatest sporting achievements.
It is situated in the Olympic Park in Stratford, London, and was built as the host stadium for the 2012 Summer Olympics and Paralympics, where it hosted the track and field events, along with the opening and closing ceremonies.