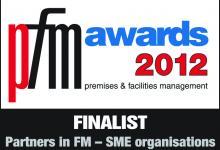 Finalists in PFM Partners in FM – SME Organisations Award Category
PTSG are proud to announce their position as FINALIST in the 2012 PFM Partners in FM – SME Organisations Award Category with Marks and Spencer.
The Company have been selected as one of the lucky finalists and will attend an awards dinner alongside Marks and Spencer in November 2012 to hear the results.
We wish to thank our partners – Marks and Spencer – and all staff of PTSG who have played a large part in been able to be put forward for the award in the first place and who work seamlessly together to ensure the contract is maintained to the highest standard.
Paul Teasdale, CEO advised "I am proud that the Company has been recognised as a finalist for this award and it proves just how much we have moved forward over the last few years, embracing client systems and working with them to achieve results. Marks and Spencer are a very important Client to us and we have a strong working relationship with each other. PTSG staff understand the needs of the Client and the importance of such a contract. I am sure Marks and Spencer are also proud we have been put forward together with them, and hopefully the staff there will gain the recognition they also deserve in running such a large, prestigious contract".
Good luck to ourselves and the other two finalists for the night.