PTSG's award-winning project to be officially opened by the Queen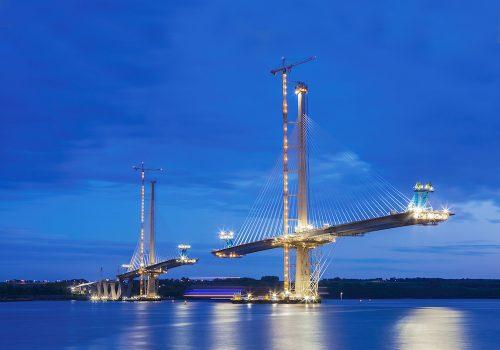 The Firth of Forth's brand-new crossing, the Queensferry Crossing, is set to be opened by Her Majesty the Queen in September, following years of work from several leading contractors including Premier Technical Services Group PLC (PTSG).
 
PTSG carried out vital work on this project to install a bespoke enormous lightning protection and earthing system on the bridge, protecting the vital, 202m tall structure from lightning strikes. This work culminated in the largest single project of its type ever undertaken by the company.
 
The company's impressive performance on this challenging contract led to it receiving the Partners in Expert Services (Single Site) award at the 2016 PFM Awards, recognising PTSG's commitment to innovation and teamwork with the main contractor, SES Engineering Services.
 
The new Forth Replacement Crossing is Scotland's largest transport infrastructure project in a generation, which involves delivering the new bridge and upgrading the connecting road network on both sides of the estuary. The Queen will officially open the crossing on 4th September 2017, exactly 53 years after opening the nearby Forth Road Bridge.