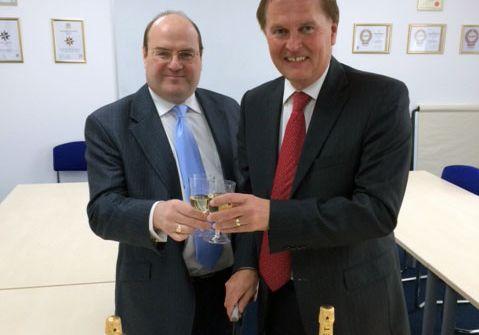 Champagne moment for PTSG as shareholders get slice of Castleford firm
Premier Technical Services Group (PTSG) enjoyed a champagne moment last week as it confirmed its admission to the London Stock Exchange.
The first day of trading saw the Castleford-based specialist service provider raise £8m, money that will fund further investment and development to aid PTSG's continuing growth.
Since PTSG was established in 2007, it has grown year-on-year. Its rapid growth has been made possible thanks to a unique customer service philosophy which puts the client at the heart of everything. This method has generated unprecedented levels of long-term repeat business and, aided by the extra money generated from its flotation, will continue to drive PTSG's growth.
Group Chief Executive Paul Teasdale, pictured with Group Chairman John Foley (right), said: "We are delighted to have raised such a fantastic sum on the opening day and we are looking forward to what I am sure will be a very positive year for PTSG. This is the icing on the cake of eight years of hard work from everyone associated with PTSG."