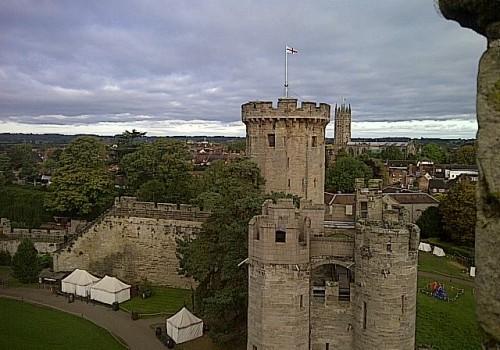 Caesar's Tower repairs completed by PTSG at Warwick Castle
Premier Technical Services Group (PTSG) has ensured one of Warwick Castle's top attractions remains open after completing essential repair works.
The group's Electrical Services Testing & Inspection division attended the tourist hot-spot to repair a conductor on Caesar's Tower – one of the site's star attractions.
The works were completed as part of the existing lightning protection system maintenance contract that PTSG delivers for Warwick Castle.
Craig Finney, operations manager at PTSG, said: "One of the conductors on Caesar's Tower had been damaged at high level and the only way of reaching the work area was to access via Rope Access.
"The tower is one of Warwick Castle's busiest attractions and it was vital the repairs were carried out quickly and successfully to ensure the facility could remain open. The team completed the works safely and efficiently so that no disruption was caused during opening hours."
Warwick Castle is a medieval castle developed from an original built by William the Conqueror in 1068.
Through the 20th century successive earls expanded the castle's tourism potential until, in 1978, after 374 years in the Greville family, it was sold to a media and entertainment company, the Tussauds Group who opened it as a tourist attraction.
Tussauds performed extensive restorations to the castle and grounds. In 2001, Warwick Castle was named one of Britain's "Top 10 historic houses and monuments" by the British Tourist Authority; the list included Tower of London, Stonehenge, and Edinburgh Castle.
Warwick Castle was recognised as Britain's best castle by the Good Britain Guide 2003. Around this time it was getting in excess of half a million visitors a year.
Caesar's Tower is the tallest tower at the castle, standing a 44.8m tall – roughly the same height as 10 double decker buses – and comprises of three stories, excluding the gaol.
It was built on the orders of Thomas de Beauchamp in the 14th century and is a great example of military architecture. It has an irregular quatrefoil or cloverleaf shape and is topped by a platform with a crenellated and machicolated parapet.