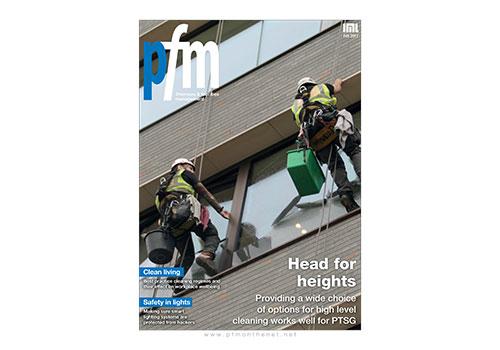 Premier Technical Services Group PLC (PTSG) features on the front cover of February's PFM magazine, as part of an in-depth look at the business's High Level Cleaning division.
The magazine has produced a double-page spread which documents PTSG's innovative approach to carrying out challenging high-level works, with a focus on the Group's high level cleaning contract at Sheffield's tallest building, St Paul's City Lofts.
The article also covers the division's skill in other works which require high-level access, including painting, brick and stone repair work and other steeplejack services. It is often the case that PTSG's four divisions carry out a multitude of services, or collaborate with each other to find innovative solutions to facilities management for high-rise buildings.
This approach to providing a range of niche specialist services has proven to be very successful for the company. PTSG celebrates its tenth anniversary on 28 February 2017.
Click the image below to read the full article.