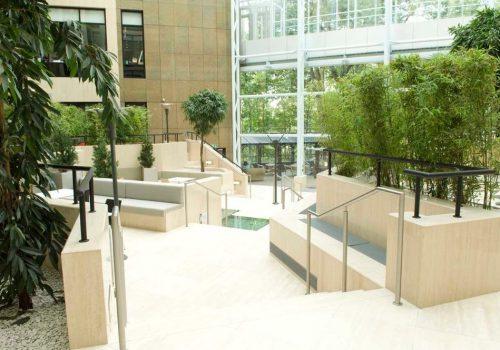 Premier Technical Services Group PLC (PTSG) has completed a complex glass replacement project for Japan Tobacco International (JTI) at the company's UK headquarters in Weybridge.
The vast commercial property boasts a large indoor garden area, which functions as a break room for the employees working in the building. The room features a glass atrium to allow natural light to enter the building, but earlier this year some sections of the glass failed, causing them to crack.
Having already successfully carried out other high-level works for the client, PTSG was called in to supply and install the replacement glass panels. The Group's skilled rope access team performed a full inspection of the site to obtain accurate measurements and devise a suitable access plan. They then worked closely with the glass manufacturer to ensure that the client received a quick yet high-quality solution.
The team used a Spierings SK1265-AT6 crane to lift the glass, with several operatives suspended by rope access to safely guide and install the new units.
PTSG's teams carry out a wide range of high-level maintenance and replacement services, including cleaning, painting, brick and stone repairs and installation projects. The company has developed a particularly strong reputation for its skill in rope access, offering a time and cost-efficient solution for a wide variety of high-level works.