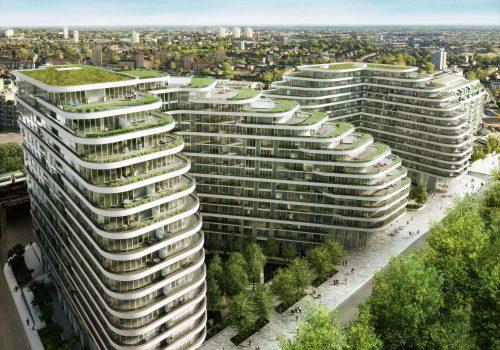 Premier Technical Services Group PLC's (PTSG) rope access team has been awarded a contract to deliver an impressive high-level cleaning project on one of London's most prestigious buildings.
The Vista development, which overlooks Battersea Park, has a striking curved design which gives each glass-fronted balcony or terrace an outstanding view of the surrounding area.
Working in conjunction with the company's highly experienced glass polishing team, PTSG's Building Access Specialists division will use rope access methods to reach areas of the building that most other organisations would struggle to access. Due to the structure's interesting but challenging architecture, the building has many hard-to-reach areas to be cleaned and polished, meaning PTSG's expert access specialists will need to employ their finest skills to deliver the work safely and to the highest possible standard.
PTSG has vast experience of providing discreet and high-quality specialist services, even on some of the country's most obscure buildings. The company has collaborated on a number of projects with large development companies on luxury London properties in the past, including Saffron Square in Croydon and the Stratosphere in Stratford. PTSG is also the partner of choice on a great many other similar projects in 100s of towns and cities across the UK, utilising the best-in-class skills of its industry leading rope access and steeplejack teams.