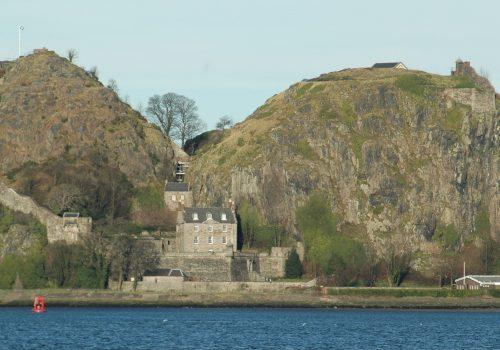 Premier Technical Services Group PLC (PTSG)'s steeplejack team [Pendrich] has competed a high-level repair project at Dumbarton Castle on behalf of Historic Environment Scotland.
Following a thunder storm at Dumbarton Castle, it was discovered that the historic building's north perimeter wall turret had been directly struck by lightning. PTSG's steeplejack team was called in to 'make safe' what turned out to be significant damage to the turret's stonework. PTSG's specially-trained rope access engineers used a combination of steeplejack and rope access techniques to stabilise and the stonework and masonry.
After completing the task, the team installed a timber compression plate in conjunction with ratchet straps to stabilise and, importantly, not cause further damage to the stonework in the interim until further repair works are commissioned.
Dumbarton Castle has the longest recorded history of any stronghold in Scotland. Set high upon a volcanic rock in the Firth of Clyde, the castle was a royal refuge and was still home to a military base as recently as World War II, meaning it has a continuity of use of over 1,500 years.
PTSG's steeplejack team has developed a strong relationship with Historic Scotland, stemming from a number of successful projects carried out in the past and, as the current preferred supplier, is delighted to be continue to be of service to this prestigious client.