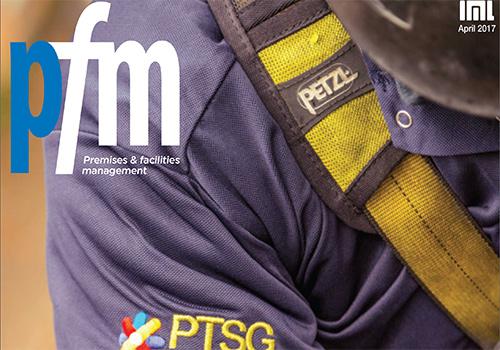 Premier Technical Services Group PLC (PTSG) has been featured in the cover story of April's edition of PFM Magazine, which focuses on the company's leading approach to health, safety and the environment.
The feature is a double-page spread which discusses various aspects of PTSG's award winning safety approach, and includes some of its high-level projects and involvement in the development of the new Fall Protection British Standard BS8610.
PTSG is an industry leader for high-quality health and safety-focused policies and procedures. The company has created a culture and framework for continual improvement, based on the plan-do-check-act model, and encompasses site inspection, performance measurement and the monitoring of the group's safe performance targets. This has led to a multitude of awards including six consecutive RoSPA Gold Achievement awards (2012-2017) and six consecutive British Safety Council International safety awards (2012-2017). PTSG is one of only a small handful of companies in the UK to have been awarded a Gold Medal by The Royal Society for the Prevention of Accidents for its innovative and considerable approach to managing safety.
The magazine also includes an article on PTSG's success at the 2017 Yorkshire Business Masters Awards at the end of March, when it was named the Fast Growth Business of the Year.
This is the third time in 2017 PTSG has been featured in PFM Magazine, following a cover story on the group's High-Level Cleaning division in February, and a feature on its partnership with Marks & Spencer in March.
To view both articles in April's PFM Magazine, click here.