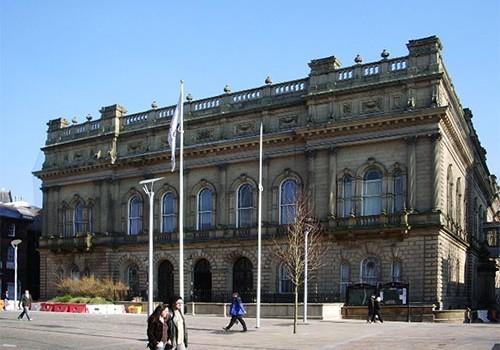 Blackburn Town Hall given new lease of life thanks to PTSG
Premier Technical Services Group (PTSG) has completed a series of repair works at Blackburn Town Hall.
The contract included an overhaul of winches and safety devices on the building's cradle to restore the equipment to working order.
This involved removing the winches and safety devices, carrying out a workshop strip down and identifying any parts required to be replaced. The winches and safety devices were then refitted to the cradle on site and an operational test was completed.
The contract also included a number of other repairs, including the fitting of new steel wire suspension ropes, rope suspension shackles, a luff operation control rope and the replacement of fixings on the rear of the trolley.
PTSG also supplied and fitted a new trolley control panel enclosure, replaced worn out left/right pendant control stations as well as damaged wiring to both pendant control stations and replaced the mains power cable, corroded cable anchor shock, lower tip bar limit switches and upper trip bar switches.
Earlier this month, PTSG carried out a load test and insurance inspection of the equipment.
Phil Millard, operations assistant at PTSG, said: "We were delighted to secure the contract. We have a vast amount of experience and expertise in our team when it comes to completing works on prominent buildings such as Blackburn Town Hall and it is another feather in our cap.
"The works were quite varied and all were completed the successfully, on time and without incident."