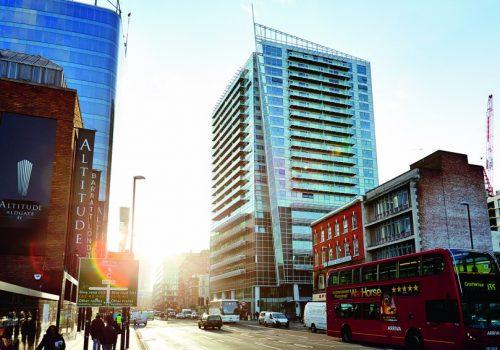 Premier Technical Services Group PLC (PTSG) has secured a contract to provide access system repairs to the Relay Building, located in the heart of London's Aldgate district.
The Relay Building, formerly known as One Commercial Street and situated next to Aldgate East tube station, is an unusual building that provides unique warehouse-inspired office space for modern businesses.
Engineers from PTSG's Access and Division will attend the building to perform repair and remedial works to its suspended access and cradle systems. These include moving existing cradle track end stops further away from the building, and providing four 15m ropes and two anchor points on the back of the building's existing cradles. The highly-trained access team will also modify the building's existing winch housing access panel for better access during future maintenance works.
PTSG's Access and Safety division has previously attended the Relay Building to perform repairs to its cradle system, restoring it to operational use. The division is recognised as the largest provider of cradle maintenance services for permanently installed suspended access equipment in the UK, and also works on a range of suspended access equipment including building maintenance units, travelling ladders and gantries.