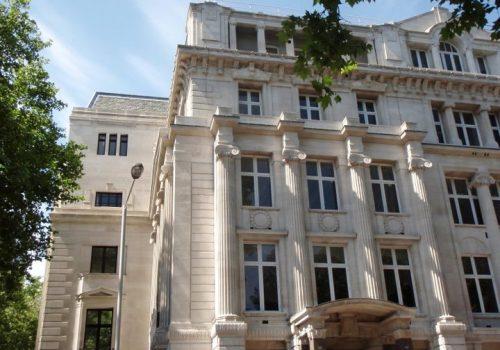 Premier Technical Services Group PLC (PTSG) has successfully completed a number of repair works the Royal College of General Practitioners' (RCGP) headquarters at 30 Euston Square, London.
Operatives from PTSG's Access and Safety division attended the headquarters to provide repairs to lifting equipment in the building's 300-seat tiered auditorium. The auditorium contains top quality AV technology and is used for interactive conferences and exhibitions.
The RCGP was founded in 1952 to represent and support GPs on key issues including licensing, education, training, research and clinical standards. It has over 50,000 members, making it the largest of the of the medical royal colleges.
PTSG regularly carries out a wide range of niche specialist services at important buildings across the capital, including historic theatres, glass-fronted skyscrapers, luxury developments and train stations. The Group's Building Access Specialists division recently completed a challenging high-level cleaning job at the Vista development in Battersea Park, utilising the best-in-class skills of its industry leading rope access and steeplejack teams.