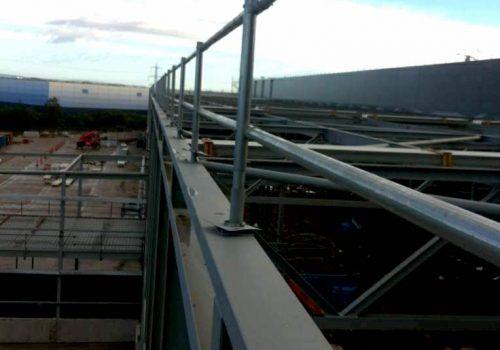 Premier Technical Services Group PLC (PTSG) has secured a contract to design and install fixed and free-standing guardrail systems to three LIDL stores.
LIDL is a German chain of discount supermarkets which now operates globally. It opened its first UK store in 1994, and has since opened over 600 stores across the country.
The Group's Access and Safety division has been tasked with providing temporary edge protection for LIDL's roofing contractors to carry out weatherproofing works to three new sites in Doncaster, Avonmouth and Motherwell, protecting them from unnecessary falls or incidents while working at height.
Installation of the first two systems, comprised of around 2,600m of fixed guardrail and 4,700m of free-standing guardrail, is well underway, and work at Motherwell will commence in early 2018. All three systems are subject to a rigorous approval process which guarantees that the systems will provide a high level of protection, whilst giving the contractors enough flexibility to move around freely and carry out their work efficiently.
The systems are also compliant with EN14122-3 for permanent edge protection, meaning that LIDL's own teams will be able to continue using the system for maintenance works on the roof once the construction phase is complete.
PTSG installs a wide range of access equipment to sites like these, including ladders, walkways, fall arrest and fall protection systems. The company is trusted by clients across Europe to provide a safe and effective access solution, recently installing a bespoke guardrail system at St. Bernard's hospital in Gibraltar.